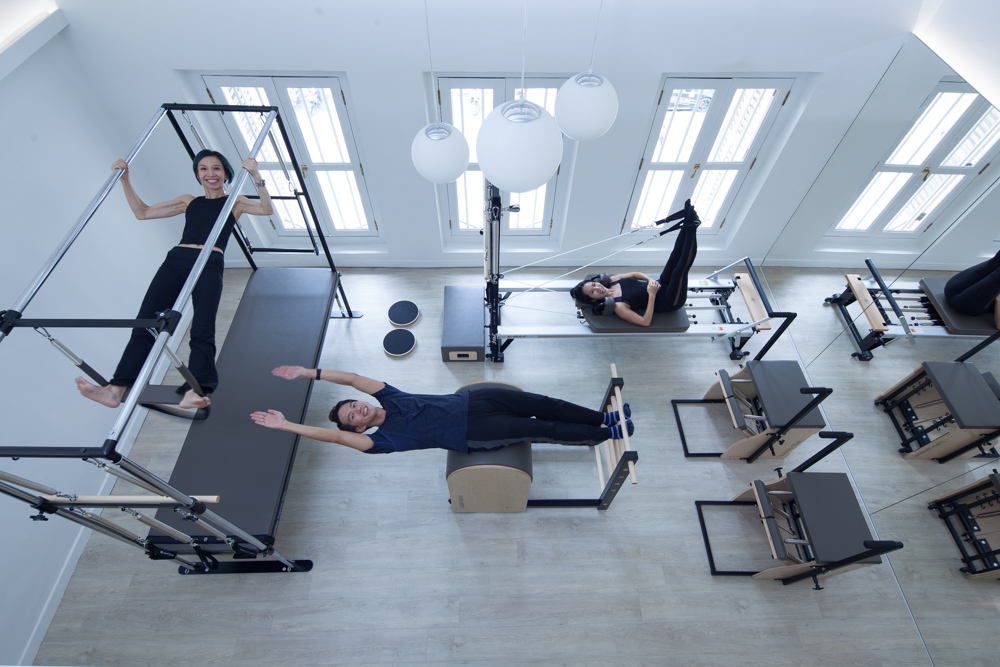 Michelle, Kevin, and Julina, co-founders of The Better Movement Studio, crossed paths in the world of Argentine Tango. Michelle and Julina are Pilates Instructors and Kevin is the brain and the supporting hand behind the business. After years of continuous learning and exploring movement together, the like-minded souls decided to join forces and open a place where they can practice what they believe in, as well as provide a peaceful, safe, inviting environment for their clients to reconnect with themselves and their bodies.
Michelle Lim
Founder & Instructor
Michelle Lim
THE BETTER MOVEMENT STUDIO
Michelle Lim is the co‑Founder The Better Movement Studio.  She is also an Instructor Trainer(IT) for Matwork & Reformer, Cadillac, Chair and Barrels of STOTT Pilates with Merrithew – Leaders in Mindful Movement, where she trained and mentored aspiring Pilates teachers internationally including Canada, Singapore, Malaysia, Hong Kong, India and China.  Additionally, she lectures part-time at Lasalle College of the Arts, teaching Pilates and Movement Principles at the School of Dance.
Michelle graduated from the then Lasalle-SIA College of the Arts, School of Dance where she has returned as a part-time lecturer, teaching her latest created programme for the School,  'The Thinking Body'.  Michelle certified with Balanced Body(BBU), Polestar Pilates and Pilates International(PITC).  She has taught in numerous settings, including at the Singapore Naval Diving Unit(NDU) and at a physiotherapy clinic.  Michelle is extremely versatile and adept  in teaching clients from all walks of life, including post-rehabilitative client, pre and post natal clients, sedentary, desk bound clients and athletes.
With more than a decade of  experience as a movement educator,  Michelle holds a deep appreciation for moving better, and for the skill and art of teaching movement better.  She truly believes that anyone can have better posture, ease of movement, less injury and more power in sports and dance.  Her own Pilates journey has been truly life changing  for her.  Thus, Michelle has the same hope that The Better Movement Studio be a place of mind-body connection as well as a place that truly liberates and empowers one physically, emotionally and mentally.
Professional Development & Training:
● Pilates International(PITC) L1
● Practitioner of Pilates Studio, Polestar Pilates
● Body Arts and Science (BASI) Matwork Training
● STOTT Pilates L1
● Anatomy Trains for Movement Specialists & Fascial Fitness
● STOTT Pilates L2
● Certified Pilates Teacher, Pilates Method Alliance(PMA)
● Gyrotonic L1 Apprenticeship
● Myokinematic Restoration(Lumbo-Pelvic Femoral Pathomechanics)
● Balanced Body Mat & Reformer Faculty Training
● Certified Instructor Trainer for Mat & Reformer, STOTT Pilates
● Basic Sports Massage, International Sports Academy (ISA)
● Neurokinetic Therapy(NKT) L1
● Certified Instructor Trainer for Cadillac, Chair and Barrels, STOTT Pilates
Julina Halim
Founder & Instructor
Julina
THE BETTER MOVEMENT STUDIO
Julina kickstarted her wellness career as a public health nutritionist and have since gained experience as a health and wellness professional. She has held positions as Director of Health & Wellness and Wellness Consultant in corporations and served at the Department of Nutrition in the Ministry of Health Singapore. She is also commonly featured in Singapore media such as Channel 8 (MediaCorp Singapore) and E City (Starhub). After years of dancing with injuries, Julina starting practicing Pilates as her form of re‑conditioning and underwent training to become an Instructor in 2012. She later worked with Carolyne Anthony, founder of The Center for Women's Fitness and became the first in Asia to be fully certified as Women's Health Pilates Specialist. Julina is particularly interested in working with conditions such as diastasis recti, and she also co‑developed The Gentle Birth Project with Carolyne. She is now a partner and faculty member of The Center for Women's Fitness.
● BSc, Public Health, Taiwan Fu Jen University
● MSc, Human Nutrition, University of Glasgow, United Kingdom
● Wellness Coach, WELLCOACHES®
● STOTT® Pilates
● Women's Health Pilates Specialist, The Center for Women's Fitness
● The Center Method for Diastasis Recti Recovery™
● Rocking and Rolling to Release™
● The Gentle Birth Project™
● Pilates Therapeutics® Scoliosis Intensive, Total Body Development™ by Dr. Suzanne Martin, DPT
● Pilates Therapeutics® Breast Cancer Restoration Intensive,
Total Body Development™ by Dr. Suzanne Martin, DPT
● Buff Bones® Osteoporosis in Depth by Robekah Rotstein
● Adapted Tango for Movement Impairment, Dr. Madeline Hackney
● Functional Nutrition, Integrated Functional Nutrition Academy
Kevin Yap
THE BETTER MOVEMENT STUDIO
Kevin's love of dancing Argentine Tango led him to start exploring ways to condition his body to improve balance, flexibility, speed and suppleness in movement. He realized early on in his exploration of the dance that correct movement and body awareness play a critical role not only in dancing but also in everyday functional movement.
Introduced to Pilates by Michelle, opening The Better Movement Studio is his dream of sharing the methodology and thought process of Pilates to others. It produced amazing results for him personally in dance and movement. He hopes that you will be able to unlock similar results by exploring this avenue of body conditioning.
Carol Foo
THE BETTER MOVEMENT STUDIO

Carol started on her pilates journey after she had her second child in 2008. She was amazed that pilates was able to help her recruit muscles that she wasn't aware of in the past and how it helped her in her postnatal recovery. Being a sports enthusiast from young (currently active in playing tennis, yoga and pilates), embarking on the Stott pilates teacher training course came naturally as she wanted to learn more about proper alignment and body awareness. She enjoys helping clients in their pilates journey and learning from their experiences as well.

Amy Chong
THE BETTER MOVEMENT STUDIO

Amy is certified in Pilates, Gyrotonic and Yamuna Body Rolling. She has been exploring the benefits of different movement methods to the body and has been a movement teacher over the past 14 years.  She finds satisfaction in assisting clients into a deep release anywhere in their body both physically and emotionally through the profound method of Body Rolling.
Using balls of different sizes and density, Amy facilitates a strong yet gentle enough session for bone and organ stimulation, ease in joint stiffness, releasing tense muscles and lubricating tight fascia.  Body Rolling elongates muscle and unwinds tension in the body.  Keeping these body structures healthy through Amy's systematic and progressive Body Rolling sessions will greatly improve performance of the body in all activities and workout.

by appointment only
from Monday through saturday
08:00 AM to 08:00 PM
ADDRESS
8 Mohamed Sultan Road #03-01, Singapore 238958