THE MOVEMENT THERAPY CLINIC
Physiotherapy . Advanced Sports Massage
THE MOVEMENT THERAPY CLINIC, a collaborative Physiotherapy arm of The Better Movement Studio, aims to provide long term resolution for movement normalisation. Seamlessly, the clinic and studio work together to deliver the highest level of corrective movement therapy to empower every person.
PHYSIOTHERAPY
At The Movement Therapy Clinic,  our physiotherapist will assess and treat disorders of movement due to physical disability, trauma, injury or illnesses. We look into roots of intermittent and chronic pain, and provide long term resolution for movement normalisation. Our goal is to correct learned movement and muscle functions in the body that can contribute to poor posture, joint tenderness and muscle pain.
Interventions such as soft tissue release, trigger point release, muscle activation and therapeutic exercises are used to treat and restore corrected functional pattern.
ADVANCED SPORTS MASSAGE
The Advanced Sports Massage service encompasses a basic movement assessment to identify the areas to be released or activated.
The therapist adopts a variety of soft tissue manipulation techniques to rectify the musculoskeletal imbalances identified:
1. Active Release Technique (ART)- It is a combination of soft tissue manipulation with movement to encourage better range of motion.
2. Deep Tissue Release Technique- The use of deep pressure and strokes to release adhesions
3. Trigger Point Release Technique- The release of painful tension and taut musculature.
4. Muscle Activation Technique- This technique involves the activation of muscles/ muscle groups that are crucial to regain stability to the joints.
5. Active Isolated stretching- It is a combination of stretching and strengthening to regain control over wide range of motion.
This service is suitable for both pre and post physical activities, as the variety of techniques can be used selectively to cater to your needs, such as:
– Musculoskeletal realignment
– Muscle activation
– Muscle recovery and relaxation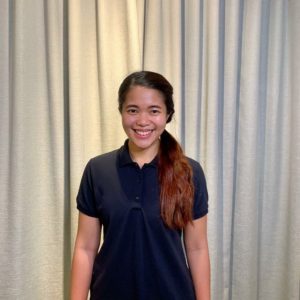 CHERYL LOW, Advanced Sports Massage Therapist
BSc (Hon) in Sports Science & Management (Nanyang Technological University)
Diploma in Sports Coaching (Republic Polytechnic)
Gray's Institute – 3D Maps Practitioner
International Sports Science Association (ISSA) Advance & BasicSports Massage Active Isolated Stretching for Physios & Bodyworkers & Foundations
Netball Singapore Level 1 Certified Coach

by appointment only
from Monday through saturday
08:00am to 08:00pm
ADDRESS
8 Mohamed Sultan Road #03-01, Singapore 238958